Location of the Parks and Wildlife Areas throughout Clarke County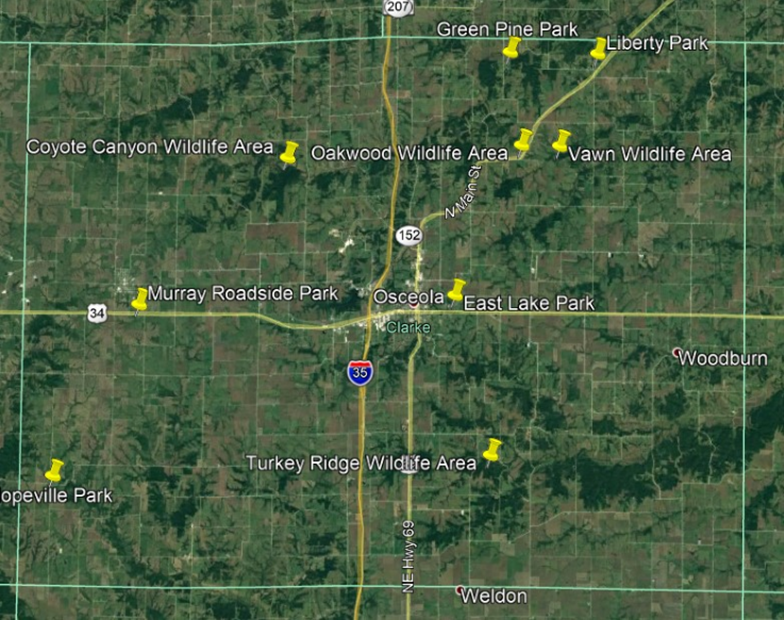 ---
Hopeville Square Park
One Clarke County's earliest settlements, Hopeville was once bustling town and the hub of community activity.  Today the town square is the site of a serene, 4 acre park, shaded by large, old silver maple trees. The park offers picnic shelters, a playground, a sports court, rest rooms, and camping (by reservation).
The park is also the site of the Hopeville Rural Music Reunion, an annual festival featuring some of the finest musicians in southern Iowa and northern Missouri playing old time country, blue grass, gospel, rock and roll, and contemporary country music. It is held each September on the Sunday following Labor Day.
---
Murray Roadside Park
Located ten miles west of Osceola on U.S. Hwy- 34, the Murray Roadside Park offers travelers and local residents 12 acres for peaceful, rural outdoor relaxation. The town of Murray is just one half mile north of the park. It was the very first Clakre County Park. The park has a picnic shelter, a playground, rest rooms, and a variety of trees, shrubs and wildflowers that attract birds and other wildlife.
---
East Lake Park
Located just one mile east of the intersection of U.S. Highways 34 and 69, on the outskirts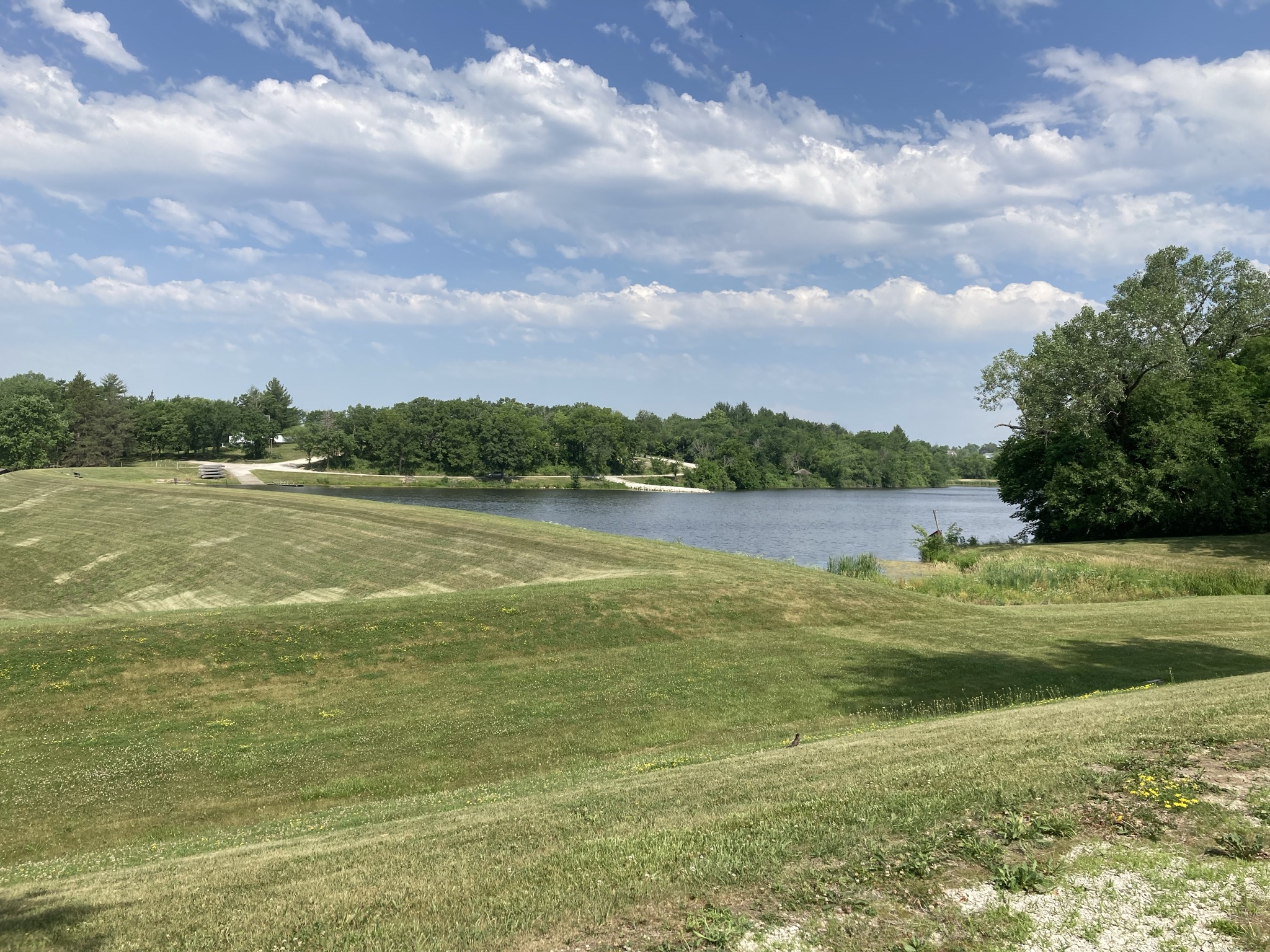 of the city of Osceola is a 160-acre park, with a 15-acre lake as its focal point. First established as a park in the 1920's, East Lake Park has continued to grow and develop over the years. The Park features six picnic shelters, a gazebo, flushable rest rooms, an amphitheater on the westside, playgrounds, a basketball court, two volleyball courts, a horse shoe court, an overlook tower, over one mile of hiking trails, fishing docks, a variety of flora and fauna, and is an ideal location for bird watching. As of 2020 a new modern campground with modern restrooms and showers is available by reservation. Be sure to stop by and check out the new facilities located on the east side of the lake. Every Thursday night in the summer free canoe in offered along with Summer Nature Camps for kids in grads 1st-6th. This is paved trail connecting the park with the school which has views of wildflowers and other pollinators.
---
Liberty Park
First established in 1855 as the town square for the village of Liberty, the Liberty Park was revitalized and rededicated as a county park by community residents in 2002. A new picnic shelter, playground, horse shoe court, and volley ball court were added. Located just off of U.S. Hwy 69, it is an ideal site for community gatherings, family reunions, or for travelers to take a relaxing break.
---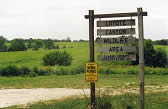 Coyote Canyon Wildlife Area
Nine miles northwest of Osceola, directional signs from County Road R35 and Pacific Street to 180thAvenue, will lead you to Coyote Canyon Wildlife Area, a 287 acre public use area comprised of restored prairie and heavy oak and hickory timber. This area is open to hunting, fishing, hiking, berry picking, and mushrooming.
---
Green Pine Wildlife Area
Located 8 ½ miles northeast of Osceola on county road R50 is 40 acres of beautiful evergreen timber. Purchased with help from the local Pheasants Forever Chapter, and ideal habitat for wildlife, this area is open to public hunting. There is also a 3 acre pond stocked with bass, blue gill, catfish, and crappie for the fishing enthusiast. There is an area for picnicking at the main entrance, and trails through the timber are ideal for hiking, birding, mushrooming berry picking, or cross country skiing.
---
Turkey Ridge Wildlife Area
Five miles south of Osceola on U.S. Highway 69, then two miles east on county road H45, and ¾ miles south on 250thAvenue, is Turkey Ridge Wildlife Area. This 68 acre tract of oak, hickory and eastern red cedar provides habitat for an abundance of wildlife, particularly deer and turkey. The area is open to hunting, hiking, mushrooming and berry picking.
---
Vawn Wildlife Area
Located 7 miles northeast of Osceola, near the Oakwood Wildlife area. Turn off HWY 69 at Oakwood Street and drive a mile to reach this property. Vawn's has 202 acres of wildlife and hunting grounds along with two ponds. The area is open to hunting, hiking, mushrooming and berry picking.
---
Oakwood Wildlife Area
Located 7 miles northeast of Osceola right off Hwy 69. The property has 193 acres of wildlife and hunting grounds. The grassland portion of the area is a wildflower plot and has a great variety of wildflower throughout the summer months. Each summer Clarke County Conservation Board hosts multiple wildflowers walks in the evenings to help educate the public on the different species of wildflowers. The area is open to hunting, hiking, mushrooming, berry picking, and viewing wildflowers.