The Clarke County Sheriff's Office is accepting applications for a full-time Jailer/Dispatcher.
This position requires a High School Diploma or equivalent. Applicant must possess excellent multi-tasking skills to dispatch law enforcement, fire and rescue units and other personnel in response to emergency and non-emergency situations via telephone and radio. Applicant will also answer administrative and 911 phone calls and must have the ability to favorably interact with the public, inmates, fellow employees and supervisors. Applicant must pass a background check. Full time employment will also receive Clarke County's benefit package, including IPERS.
Starting wage for this position is $16.88 hourly with an increase to $17.65 after 6 months. Step increases in pay will follow based on the approved pay scale. Applicants must be willing to work nights, weekends and holidays when necessary.
Applications for employment can be picked up at the Clarke County Sheriff's Office Monday through Friday 8AM to 4 PM. Applications can be also be found here:
Click here to download application
Applications will be accepted until this position is filled.
Clarke County is an Equal Opportunity Employer
---
Clarke County Sheriff

Rob Kovacevich, Sherriff
Phone: (641) 342-2914
Clarke County Law Enforcement Center
220 Townline Road
Osceola, Iowa 50213
Osceola Police
Marty Duffus, Chief
Non-emergency number: (641) 342-2121
Clarke County Law Enforcement Center 
220 Townline Road
Osceola, Iowa 50213
Iowa Highway Patrol
Phone: (641) 342-2108
1619 Truro Pavement
Osceola, Iowa 50213
Emergency Medical Services
Mel Halls
Phone: (641) 342-2184
Clarke County Hospital
800 S. Fillmore
Osceola, Iowa 50213
---
Osceola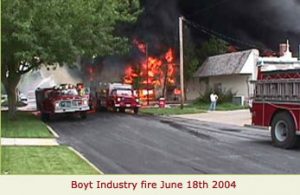 Byron Jimmerson, Chief
Emergency: 911
Phone: (641) 342-3019
Fire House Meeting Room
Meetings
Business: 1st Monday, 7-10 pm
Training: 2nd Monday, 7-10 pm and Thursday following 3rd Monday
Murray
Jeff Werner, Chief
Emergency: 911
Phone: (641) 447-3111
Fire Hall
Meetings
3rd Monday, 7 pm
Woodburn
Merrill Snell, Chief
Emergency: 911
Meetings
1st Thursday, 7:30 pm
---