City School Election 2021
Notice of Election
I, Janice M. White, Auditor and Commissioner of Elections, in and for Clarke County, Iowa, do hereby proclaim and give notice that the Combined City/School Election will be held on the 2nd day of November, 2021. The polls will be open at 7:00 a.m. and close at 8:00 p.m.
 Polling locations in Clarke County for this election are as follows:
    MIDDLE PRECINCT………………………………………………………………….CLARKE CO 4-H BLDG
Washington, Ward, Knox & Green Bay Twps
MURRAY PRECINCT…………………………………………………………………MURRAY COMM CENTER
Madison, Troy & Doyle Twps and Murray City
NORTH  EAST PRECINCT………………………………………………………….OSCEOLA EAGLES BLDG
Liberty, Fremont & Osceola Twps and Osceola Pct 4
OSCEOLA 1ST WARD………………………………………………………………..OSCEOLA CITY HALL
OSCEOLA 2ND WARD……………………………………………………………….COURTHOUSE 1ST FLOOR
( Excludes Osceola Pct 4)
OSCEOLA 3RD WARD……………………………………………………………….UNITED METHODIST CHURCH
WOODBURN PRECINCT………………………………………………………….WOODBURN LEGION HALL
Jackson & Franklin Townships & Woodburn City
Any voter who is physically unable to enter a polling place has the right to vote in the voter's vehicle.  For further information, please contact the County Auditor's office at:  641-342-3315, or email address: jwhite@clarkecountyiowa.org.
 Absentee voting may be done at the Auditor's Office in the Courthouse during regular business hours (8:30 a.m. – 4:30 p.m.) thru November 1ST. Requests for mailed absentee ballots must be made by 5:00 p.m. on Monday, October 18, 2021. All absentee ballots must be received in the Auditor's office by 8:00 p.m. on Tuesday, November 2, 2021 (Election Day) to be considered on time to be counted.
 The pre-registration deadline for this election is Monday, October 18, 2021, at 5:00 p.m.  After this date, eligible voters may register and vote on Election Day at their polling place or by Absentee ballot in the Auditor's Office with an approved form of identity and residence.
 Pre-registered voters are required to provide an approved form of identification at the polling place before receiving and casting a regular ballot.  Voters who are not pre-registered – such as voters registering to vote on Election Day – and voters changing precincts must also provide proof of residence.  A voter who is unable to provide an approved form of identification (or prove residence if required) 1) may have the voter's identity/residence attested to by another registered voter in the precinct, 2) prove identity and residence using Election Day Registration documents, or 3) cast a provisional ballot and provide proof of identity/residence at the County Auditor's office by noon, Thursday, November 4, 2021.  Election Day Registrant attesters must provide an approved form of identification.  For additional information about providing proof of identity and/ or residence visit: https://sos.iowa.gov/voterid or phone (641) 342-3315.
 Public testing of voting equipment will be held on Tuesday, October 26th, at 10:00 a.m. in the Multipurpose Room at the Courthouse.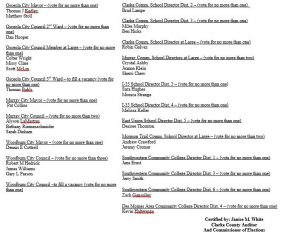 Helpful Links
Find your Precinct/Polling Place