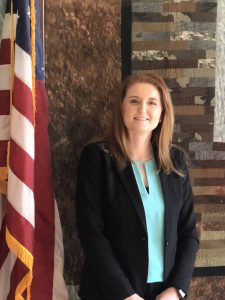 Clarke County Treasurer's Office
Driver's License Department is by appointment, please call our office at 641-342-3311 to schedule an appointment.    A drop box is located near the north entrance of the building for your convenience.
Jessica Smith,
Clarke County Treasurer
Message from Jessica Smith, Clarke County Treasurer:
I would like to welcome you to the Clarke County Treasurers' Home Page!
My hope is this website will make contacting our office easier and more convenient with access to information 24 hours a day, 7 days a week. The Treasurer's office is responsible for: Property Tax Collection, Issuance of Vehicle Titles and Registrations, Driver License Issuance, and Financial Management of the county's funds.
Our office is committed to carrying out these responsibilities in the most efficient means possible, while providing outstanding customer service through a process of continuous evaluation of the way in which we do business.
Please visit us again!
Sincerely,
Jessica Smith
Clarke County Treasurer
---
Contact Information
Clarke County Treasurer
P.O. Box 157
Osceola, Iowa 50213
Phone: 641-342-3311
Fax: 641-342-6260
---
Tax Department
Jessica Smith – Treasurer
jsmith@clarkecountyiowa.org
Brooke Caldwell – First Deputy
bcaldwell@clarkecountyiowa.org
Motor Vehicle Department
Shelby Hawxby – Motor Vehicle Deputy
shawxby@clarkecountyiowa.org
Kim Hamilton – Deputy
khamilton@clarkecountyiowa.org
Driver's License Examiner
Jess Navas – Driver License Examiner
jnavas@clarkecountyiowa.org
---
Click below to pay your property taxes or motor vehicle registration online!