---
Drivers License Station
Clarke County Treasurers Office
Phone: (641) 342-3311
Treasurers Office Information
Office Hours for Drivers License: Monday – Friday, 8:30 am to 4:00 pm
Written Testing: Daily, 8:30 am to 3:30 pm
Car Drive Test: Tuesday, 9:00 am to 3:00 pm (Must make appointment)
Information and Requirements for Driver's Licenses in Iowa
---
Motor Vehicle
The treasurer acts as an agent for the State of Iowa, Department of Transportation and Department of Revenue and Finance in the processing of motor vehicle transactions. The treasurer collects appropriate fees, forwards the funds to the appropriate state agency, and retains a portion to help defray the expenses of the treasurer's office. Below are listed some of the motor vehicle transactions performed by the treasurer's office:
Annual registration renewal for all vehicles registered in Clarke County
Issue junking certificates for vehicles that are dismantled or no longer operable
Issue replacement, salvage, in-lieu and in-transit titles
Issue special plates (personalized, collegiate, etc.)
License, title and collect Road Use Tax (or Iowa Lease Tax) on all motor vehicles and trailers purchased (or leased) for use in Clarke County
Process registration refund claim forms for vehicles sold, junked or traded
Record and release security interests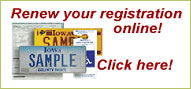 Department of Transportation
Online Vehicle Registration Renewal
It is possible to renew your vehicle online. The accepted payment methods are Discover Card, MasterCard, Visa Card and eCheck. An eCheck is a method of debiting the funds electronically from your checking account, just as if you would write a check. The Service Delivery Fee for credit card is approximately two percent (2%) of the total fee due. When paying by eCheck the Service Delivery Fee is $2.00
Before you begin, you will need the PIN from your renewal notice. If you have lost your notice, there is a link on the renewal website for you to get your PIN.
| | | |
| --- | --- | --- |
| | Fee Charged | County Retains |
| Title | $25.00 | $2.50 per title |
| Registration | $ varies | 4% of fee collected |
| Replacement Title | $25.00 | $4.00 per title |
| Security Interest | $10.00 | $6.00 per title |
| Road Use Tax | 5% of purchase price | $1.00 |
Extra fees for special plates are directed to the appropriate State-managed fund(s).
---
Other Licensing